Little Boy, Mr P, and I have reluctantly returned from our big vacation of 2012, which began with 3 days/2 nights in Dublin (essentially an extended airplane transfer so that all of us can claim we've been to Ireland), followed by a week in the French Alps in the mountain village where we normally ski. There we relaxed with family and friends, taking long walks in the cool summer sunshine and eating even longer meals, playing at the pool, and watching Little Boy bond intensely with his 5 year-old British cousin.
But… I digress. We arrived in Dublin on a Saturday morning after an all-too-short 5 hour red-eye flight. Little Boy was in surprisingly good spirits as we boarded the bus to the town center, after which we struggled down a quiet residential street to our hotel. I was struck by Dublin's relative flatness — no skyscrapers or tall buildings. It was unmistakeably European, but one could tell that, historically, Dublin didn't have the money that other European capitals boast.
Having arrived well before check-in time, we left our bags at the hotel and walked to the nearby Dublin Zoo in the magnificently large Phoenix Park. Going to the zoo was my idea; I figured a sleep-deprived Little Boy wouldn't tolerate traditional sight-seeing, but it would be good for him to walk around in the sunshine, gawking at lions, monkeys, sea lions, and giant walking bananas ("Mama, there's a people in there?" he asked me fearfully.)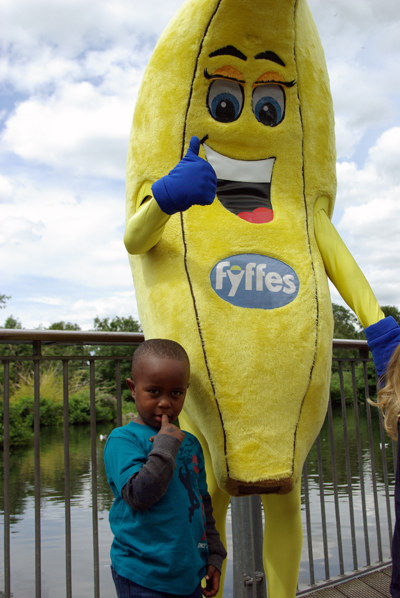 The Dublin Zoo was surprisingly impressive, and it was sort of cool to be among regular Irish families instead of fellow tourists. It struck me that the Irish parenting style resembles what I see in America. Parents quietly fought to get their kids the best spot in front of the leopards. Tantrums and crying were pacified by food (and boy, do they like their junk food!) Massive strollers were ubiquitous and even 3-4 year olds were pushed instead of walking. Take away the Irish accent and add some diversity (populations with homogenous populations are creepy to me), and we could have been in America.
After the zoo, we headed back to the hotel to freshen up in our room. We were staying across the street from the Kilmainham Gaol, a large jail (unoccupied since the 1920s) that played a prominent role in Ireland's modern political history, so we decided to take a tour.
We tried explaining to Little Boy that the jail is where "bad guys" used to live, though I don't think he understood why they "lived" there. All in all, he found the experience rather terrifying.
After a trip to the hotel's amazing pool, Little Boy was still thriving despite his 4 hours of sleep. Indeed, he was manic. It was inevitable that his energy would crash suddenly and dramatically and over dinner in a restaurant.
The next day we took a bus excursion to County Wicklow, home of Ireland's most prominent mountains. After driving for about an hour, the bus stopped at Loch Tay, nicknamed Guinness Lake for its dark color.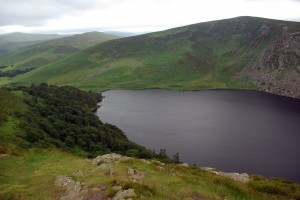 We then stopped in Glendalough, which features a medieval monastery.
After touring the building, we decided to take a walk to see some of the lakes.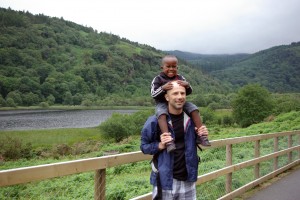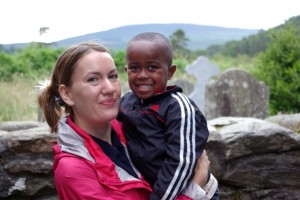 From there, it was off to lunch…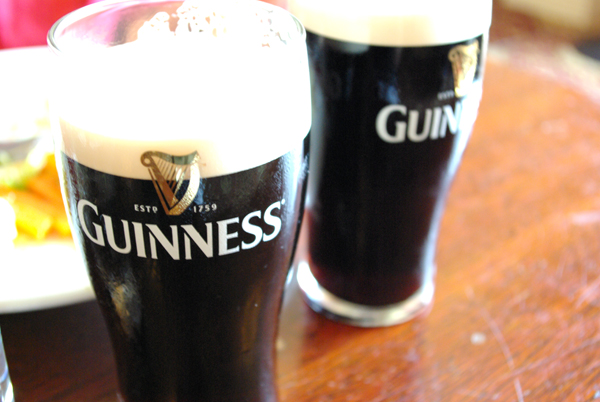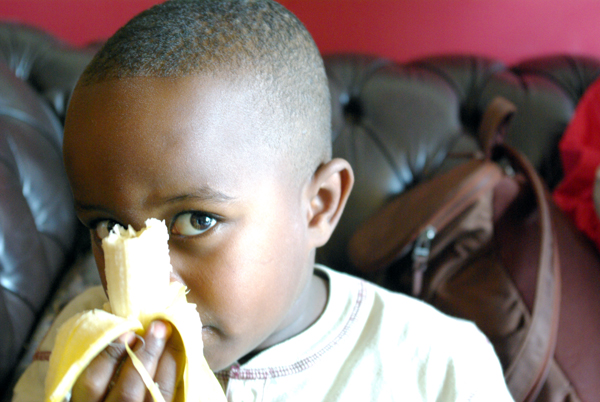 And then Trim Castle in County Meath. By then, Little Boy (who was the only person under 18 on the bus) had become a star. Everyone adored him and the tour guide at the castle gave him "the keys to the castle" to hold.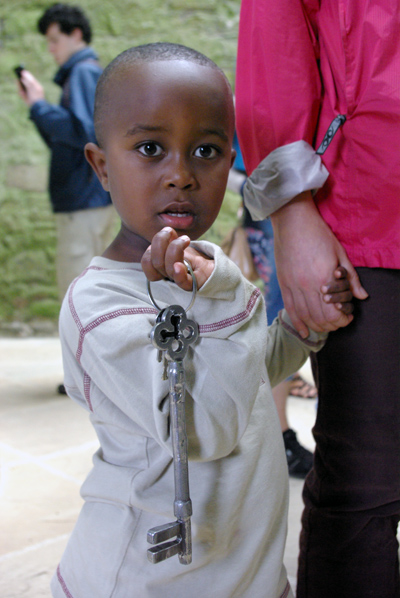 We got a family photo on the roof.
What struck me most about the countryside of Ireland is how, indeed, how emerald it is. And why not? Even in summer, it's consistently cloudy, drizzly, and cool.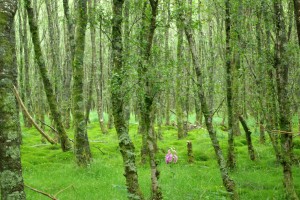 Our flight to France left Monday evening, so we had time on Monday for one last sightseeing chore: The Guinness Storehouse. Apparently, you cannot be a tourist in Dublin without visiting the museum at the original St. James' Gate Brewery, drinking the complimentary pints, pillaging the store, and enjoying the "exhibits."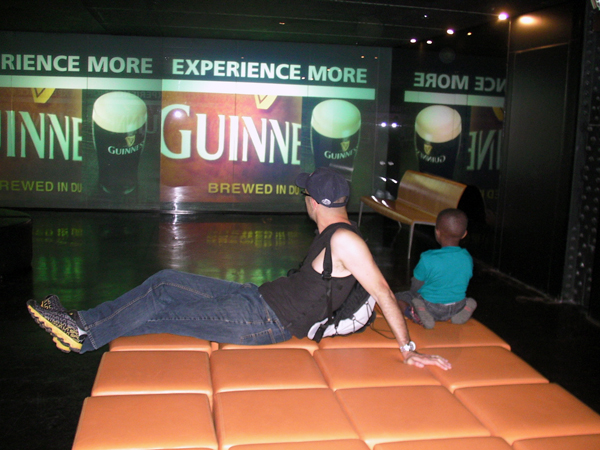 After purchasing our requisite Guinness gear (branded "Ireland" for the kiddies), we bid goodbye to Dublin and took off for the French Alps… to be continued…