One year!?! since Little Boy and I got off the plane from Addis Ababa (via Washington Dulles) at Boston Logan airport and collapsed into Mr. P's arms. Well, I collapsed, with Little Boy clinging to my aching torso. What a long, strange trip it had been.
When I think about that second trip to Ethiopia (which Mr. P couldn't join me on because he was dealing with our housing situation/closing on the condo)…  it was simultaneously one of my most exciting trips and one of the hardest things I've ever done. And I never blogged about it. So, to the best of my ability, I will now try to preserve these memories before they are further eroded by the passage of time and a busy life.
We received an embassy appointment about two weeks after we returned from our first trip. There was about a ten day notice, meaning that — contrary to the acknowledged laws of international adoption – yet again everything was happening much quicker than we were led to expect (2-3 months being the estimate between first and second trips). So we felt lucky, yet then… the start of the second trip was extremely stressful because of the possible US government shutdown (I blogged in angst about that here). Long story short: if government closed, the US Embassy in Addis Ababa would close, and I wouldn't be able to get Little Boy's visa and would be stuck in Ethiopia indefinitely, so my travel agency moved my flight from Friday morning to Saturday morning in hopes that the shutdown would be averted by the Friday midnight deadline. We stayed up Friday night, watching the news and compulsively reloading cnn.com. I fell asleep at around 11pm and Mr. P woke me up a short time later, informing me that the shutdown was averted. We rejoiced, emailed the travel agency to confirm the tickets, and then slept for three hours before going to Logan and saying goodbye.
In my sleep-deprived haze, I remember getting off the first plane in Washington Dulles and boarding a shuttle to another terminal; there, staring at me in amazement was C/M, a couple from upstate New York in our original travel group from our first trip who was a part of the subset of families traveling for their embassy appointments. We bantered about the shutdown craziness on the way to the terminal. Then they went to get breakfast and I paced through the stores, tired but desperately wanting to move my legs before the 12-hour flight that awaited us.
Fast forward to Addis Ababa. C/M, along with W/M/M (another family in our travel group, a couple from New Hampshire and their extremely mature 7 year old daughter) waited in the Addis Ababa airport for our ride. I had just cashed in $400 US dollars for a brick-like stack of Ethiopian birr. Our driver was waiting in the parking lot, but we didn't know this and stayed in the lobby, feeling conspicuous. There was some sort of celebration going on, loud singing and jubilation for someone who was arriving at the airport. Finally, the agency driver came looking for us and we got into our passenger van and drove 30 minute to the guest house.
The first thing we all wanted to do was see our kids, but we put our luggage in the guest house (which is located on the gated grounds of the agency's transition home, though the "Big Kid's house" where Little Boy stayed was a few doors down the street in a separate gated complex.)
Hanging in the dining room of the guest house are pictures of Brad Pitt and Angelina Jolie, who adopted their daughter using our agency. (Somehow though, I doubt they stayed at the guest house!) They are posing with the agency's esteemed in-country director. We ate every meal in the dining room 'neath their starry gaze.
Since I was the only family traveling alone, I was assigned a small room near the shared bathroom. It was clean, but bare bones, and the bathroom's shower was very, ahem, third world. I can't remember if we ate first and then went to the Big Kid house or vice versa, but I do remember seeing Little Boy again after our one month of separation and feeling relieved that he remembered me. He was in better spirits; I think the photo album that we left with our pictures helped, though I had to remind myself that I was still very much a stranger to him. He did seem to wonder where Mr. P was, but we didn't have any shared words to talk about it. We played games and I gave him some presents (bubbles, balloon, etc) that the other kids could play with too.
Saturday and Sunday continued calmly: I recovered from jetlag, made periodic visits to the Big Kid house, and went on a few around-the-town shopping outings with the other adoptive families (C/M, who were adopting a baby girl; W/M/M, who were adopting a 7 yo old; K/J, a mother and her college aged daughter who were adopting a 6 yo girl; and A., a large man with a large family at home who was adopting a 2 yo special needs boy). After going to the upscale tourist shopping areas, we went to the Mercado, the largest open-air market in Africa that covers many city blocks. The driver wouldn't let us get out the car (not that we particularly wanted to).
Our visa appointment at the US embassy was on Monday. All of the families along with our kids and an agency representative piled into the van. I still remember the first time I heard Little Boy really laugh, when he saw the driver and he cried "Mulat-o!" with delight. Everyone laughed (the driver's name was Mulat, but the kids call him "Mulat-o") and I was amazed to see Little Boy so expressively happy. He was very excited to be in the van. There were no seat belts, so he sat on my lap. In fact, he was clinging to me, probably not so much out of attachment but fear. We drove to the Embassy, parked in a nearby neighborhood, and walked up a hill. We went through security and joined about a hundred other people in the waiting area. Most people were Ethiopians applying for US travel visas. The agency rep went to get our number at a special window for adoptive families while we sat awkwardly in the crowded room, feeling the eyes of Ethiopians on us with our kids. There was a little plastic playhouse with a slide; we tried to get Little Boy to play on it, but he was most interested in playing with the slinky that I brought along. After all the other families in our group were called to the window, it was our turn. It was a straightforward interview, with one fearful moment coming when the officer asked me for an updated copy of Mr. P's Green Card (the copy in our visa application had expired), which I didn't have. The other families remarked later that I looked panicked, but the expired paperwork apparently didn't matter, because we got the visa. And just like that (not to mention the preceding months of paperwork and legalities), Little Boy was a US citizen.
Monday night, to celebrate our visas, the agency treated us at a local restaurant (without the kids). The restaurant catered to tourists; there was a band and dancers who would change into costumes to depict the local dances in Ethiopia's various regions.
The servers brought out a simply insane amount of food for 10 people. The dinner was at 8pm and all the other families had already eaten dinner at, like, 5pm. I was really the only one (side from the local agency reps) who dug into the injera with gusto. Everyone else picked at it, making me a little ashamed of the amount of food that was uneaten, but I could only eat so much.
During dinner, the driver informed me that I would be going on my birth family visit the following morning (Tuesday). He gave me a sheet of paper that said I'd leave at 11am and would be gone for one night. This sounded strange to me, because he kept warning me how long of a drive it was, much longer than anyone else's in my group — and they were leaving at 8am. I began to suspect that he was giving me Ethiopian time instead of Western time, which the agency told me no one would do. I asked him several times, but he kept saying 11am. Of course, when the knock at my door came the next morning at 4am, I wasn't really surprised. I quickly washed my face, brushed my teeth, grabbed my bag and went downstairs. The women at the guest house laid out some bread for me, and I grabbed a piece and wrapped it in a napkin for the car ride. The driver waited outside in a big, modernish van. I got in the back seat and we drove out of Addis Ababa in mostly silence. As we left the city limits, the sun began to light the sky.
We were headed south, to Hawassa first to pick up the social worker/translator, and then to Bensa, Little Boy's birth village. It was about a four hour drive to Hawassa on a flat paved road. We got out of the van at the agency's local office and the driver asked me if I had to use the bathroom. I didn't really have to go, but thought a preventive bladder emptying might be nice. We were greeted by the translator and they conversed briefly in Amharic. Then they explained to me that the bathroom was broken. I said it was okay, and we got into the van and drove some more.
By then, the road turned into dirt and rocks. We bounced along; there were so few cars that almost everyone turned to look at us as we drove by.
The only other vehicles I saw were construction-related. We passed several construction sites that made my stomach lurch.
We drove, and drove, until we stopped in a cafe to meet two more people who would be going on my birth family visit. The translator explained that I was the first of several birth family visit in Bensa, and that he expected a large crowd to come and see me."I want the whole village to see you!" he said, sipping his coffee. He seemed very proud to be there with me; people he knew kept coming up to him, ignoring me but talking to him, very friendly. I smiled and tried to look inconspicuous. Here I was, a giant white woman in a remote Ethiopian village cafe, squinting in the glare of the sun, sweating in the humidity, praying her malaria medication was working, and wondering if the cafe had a bathroom. The translator went to go ask someone and he came back: "No bathroom." No one else seemed concerned. I had long stopped drinking water.
Finally, two young men showed up. I was unsure who they were; they didn't speak English, but were dressed nicely and both had cell phones that they constantly played with. The five of us got into the van and drove a little more. Soon, we arrived in Bensa. The driver told me that the translator (who spoke six languages) was born in Bensa. We stopped in front of a house and everyone got out except the driver and me. "Is this it?" I asked, looking at the crowd of mostly children gathered outside of the van. "Yes," he told me.
Soon, people began to come out of the house. It was the family. The translator got me out of the van and I went to greet them. I shook their hands with a beaming American smile. They smiled shyly at me. We went into a one-room house (not a hut, but a communal "party" house) and had our meeting. They asked me questions. I asked them questions. I gave them a photo album filled with pictures of Little Boy and of our life in America. The translator read my letter. As we talked, the room filled with people, and more people crowded outside. The family seemed very happy to meet me. I was happy and sad to meet them. I wanted to ask some personal questions of some family members, but the translator waited until we were outside. Then, they took me to their house, where Little Boy was born and lived for about two years.
We went inside. It essentially had two rooms: the kitchen/dining room/barn, and the bedroom/food preparation room (they eat mostly false banana root, which they ground in a large tub next to the only bed.)
I thought about how I just showed them pictures of our house, and how strange it must have seen to them. I thought about a lot of things, actually. It was overwhelming. We gathered to take pictures. I took videos, too. Then I said I was ready to leave. The visit probably lasted 45 minutes.
We drove and dropped off the two men somewhere, then headed back to Hawassa. By then, it was about 2pm. I had not used the bathroom in about ten hours. I had consumed a piece of toast, some water, and some coffee. My brain was so overloaded that it scarcely mattered. The translator told me we would be stopping at a park for lunch (the guest house had given me sandwiches that morning). We drove about an hour, then walked about 20 minutes to the picnic spot, which had couches and tables. A man came, offering sodas. I declined on the soda but asked for a bathroom. Another lengthy discussion between the driver and translator. I was prepared to say that I could go in the woods, but then the man lead me to a hut that had a dirty but working western toilet inside. Relief.
After eating our sandwiches, the driver, translator, and park caretaker took me on a short walk to a waterfall (for a small fee). They were extremely proud of the waterfall and I expressed proper awe for its beauty.
We headed back to the van and continued driving to Hawassa, where I would stay in an opulent hotel that catered to Chinese business and westerners. The translator and I said goodbye and I tipped him well. The driver said he would pick me up the next morning. I was exhausted and dehydrated, so I laid in my room and drank water. I ventured to the hotel's restaurant for a cup of soup. I watched the international news and ensconced myself in the mosquito net hanging above the bed.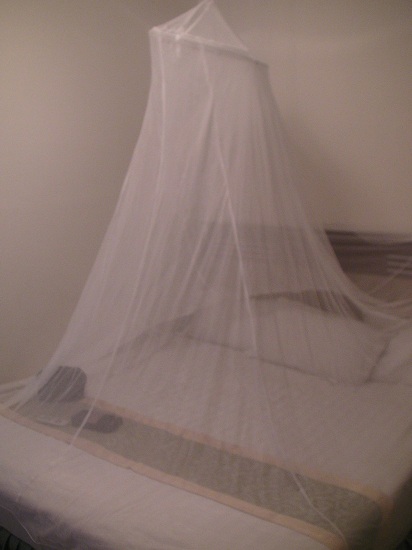 Breakfast was a huge buffet. I was alone in the dining room except for two obese loud British girls, who loaded plate after plate with pastries. I was not hungry and, after yesterday's bathroom scarcity, was afraid to drink more than a cup of tea. After packing my things in my room, I checked out (hotel was about $50 US a night) and waited for the driver in the parking lot. I was so glad to see him. He told me he would take me to Hawassa's famous fish market. We drove to a large lake and entered through a gate (for a small fee). There were hundreds of men, some fishing, some buying fish. I will never forget the little boys who sat next to huge piles of fresh white fish and expertly peeled off the skin with their teeth.
We got back into the van and drove some more. The driver said we would stop soon at a nature preserve. We entered the park (for a small fee) and promptly saw ostrich! We then got out and walked around, and saw gazelle and warthogs.
The driver got it in his head that I really liked lakes and water, I think because I expressed such appreciation for the places he took me. So he began taking me to all these lakes. I was powerless to stop him. I was interested, but sort of wanted to go back to Addis Ababa.
We continued driving. At some point, he rapidly slowed down because there was something in the road ahead. I squinted. What was that? Then I realized it was a herd of camels! I grabbed my camera and started taking pictures. One of the herders saw me and began banging on my window, yelling at me. Another came over and screamed at the driver. "They want money for me taking pictures?" I asked the driver. "Yes," he said, laughing and yelling back at them. "I have money," I said, calmly, as the men screamed and banged. "No, you're not giving them money. They're in the road! You take their picture! You don't give them money!" He revved the engine and peeled away.
We arrived back to Addis Ababa in the early afternoon on Wednesday. The traffic going into the city was insane. When we arrived at the guest house, I tipped the driver nicely and said goodbye. There were several families around who were not taking their birth family visits until the next day. I felt like a changed person compared to them, on a totally different plane. But, more importantly, with the birth visit over and nothing else to do for the next two days, I could officially "take custody" of Little Boy. After resting, I went over to the Big Kid house and brought him over to the guest house. We outside for a little bit and then in the dining room.
Little Boy seemed dazzled by everything, and grew increasingly affectionate with me — lots of hugs and carrying. I'm not sure what he understood at that point, but one of the nurses told me that he knew we would shortly be getting on an airplane and he would be going to live with me. I returned him back to the Big Kids house for one last night, deciding that he would spend all of Thursday (including the night) with me.
Basically, we did nothing but play and eat for Thursday and Friday morning. We were leaving Friday night, so I packed while he played on the bed. I learned his potty words. I was overly cautious with everything, like stairs. When we slept next to each other, I worried that he would fall off the bed. I couldn't wait to go home. Friday after lunch was the goodbye coffee ceremony. I dressed him in the traditional white Ethiopian clothes that I had bought while shopping, which he detested. The coffee ceremony scared him. He clung to me and refused to dance with the other kids. He wanted to go back to the room. We were presented with our travel documents and a special present — it turned out Little Boy was the 1050th child adopted from Ethiopia through our agency, and they hung a picture of every 50th child in the guest house! (Brad and Angelina put us over the top).
From there, we were whisked away to the airport along with two other families to begin our journey home. My most prominent memory is carrying a clingy Little Boy through stuffy hallways while managing my bags and papers. We boarded around 9pm and Little Boy promptly fell asleep. I was too keyed up to even consider sleeping, so I watched movies for, oh, 9 hours until we landed to refuel in Italy. Then I made the ultimate rookie-parent mistake: I woke him up. Still unsure about his potty habits, I worried that he might have an accident, or that he might be hungry. What a mistake. For the next 7 hours, he drove me crazy. He pressed every button he saw, including the call attendant button and our neighbor's light. When we tried to watch a movie, he poked at the touchscreen repeatedly. He couldn't be bothered with any of the toys I brought. He refused to eat any food except a single boiled potato. I have never been so glad to get off a plane.
Only, awaiting us in Washington Dulles was an eight-hour layover. Immigration ate up about two hours, and then we paced through the airport, looking for amusement. We gratuitously rode the escalators. We watched trucks and planes on the tarmac. We bought an apple, which he sampled. We bought a burrito, which made him cry. We bought banana bread, which he nibbled. I was exhausted, nearing 30 hours without sleep. Finally we boarded the JetBlue plane for the short flight to Boston. And Little Boy promptly fell asleep. I pounded a beer.
I cannot describe the feeling of arriving in Boston. The journey to bring Little Boy home was over. And then, the real journey began.