We planned A.'s first camping trip some weeks ago, as the tent sites at our favorite state park in New Hampshire's White Mountains fill up quickly on holiday weekends. At the time, we had a conversation that was, in retrospect, silly — about whether A. was " ready" for camping. Ready to sleep outside on primitive bedding? Ready to cook by a fire? Ready to brave life without television and a room full of toys? That pretty much describes the first 2 and 3/4 years of his life. Oh, sure, he's rapidly becoming acclimated, as evidenced by his near-constant pleas to watch Toy Story, but he could not resist all of the trappings of camping — the fire, the gadgets, the ability to run around waving sticks without nary a glance from Mommy.
We drove up to New Hampshire on Friday afternoon, arriving at 7pm with just enough sunlight to set up our tents, tarp, and other gear. I was worried about the moment when A. found out that we'd be sleeping in the tents (we took the double tent while Mr. P stayed in his coffin-like one person tent). But he laughed and clapped his hands in delight, and repeatedly walked over to the tents to point and confirm where each person would be sleeping. It took him a little longer to fall asleep — he kept playing with his flashlight and crawling out of his sleeping bag — but once he was sleeping, he was out. He didn't even stir when I awoke at 6:30 am and slipped out of the tent for an early-morning jog in the woods. When I returned an hour later, he was sitting with Mr. P at the picnic table, looking very much like a relaxed, seasoned camper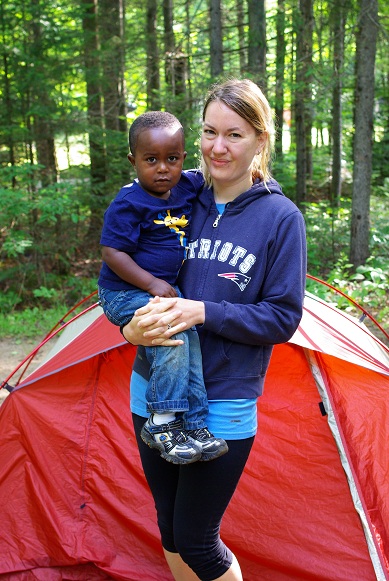 We realized on Saturday morning that part of our portable gas stove was missing, so we could either drive into town for breakfast or boil water over the campfire for warm beverages and oatmeal. We don't like to build fires in the morning — it wastes time and wood — but with A. there, it's not like we were in a hurry to get started on a daylong mountain traverse. So, might as well linger around the campsite, poke at the fire, and wait for the water to boil.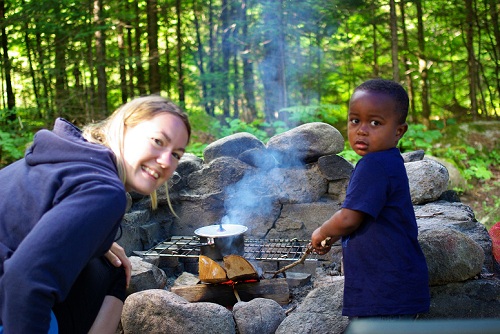 Since A. is not up to the task of hiking in the ancient, crumbly White Mountains (and we're not up to the task of carrying him in the kiddie backpack), Mr. P and I split up to take solitary hikes for a few hours while the other stayed with A. I choose to hike nearby Mount Crescent, which is ignored by the masses by virtue of its puny height (3521′ and thus off most major peak-bagging lists). I left on my gear from my morning jog and attempted to run the ascent to train for the Okemo Mountain Challenge that Mr. P signed us up for…. but the trail was rugged with slippery rocks and tree roots, not to mention the non-stop bear scat that I encountered near the summit. To announce my presence to the black bear whose territory I was intruding upon, I began clapping my hands and singing loudly (the theme song for the Gummi Bears was the first thing that came to mind). I cursed myself for not taking a busier trail or carrying a bear whistle, but I reached the summit of Mount Crescent without incident and was awarded with a nice view of the Presidentials:
While I hiked amid the bear scat, Mr. P took A. fishing at the state park: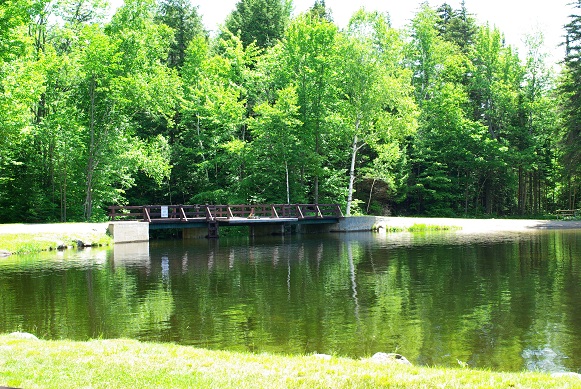 When I returned to the state park, I found out A. was terrified of the live worms they used as bait, as well as the two tiny trout they caught (and threw back), but he really enjoyed reeling the line and was trying hard to cast the fishing rod.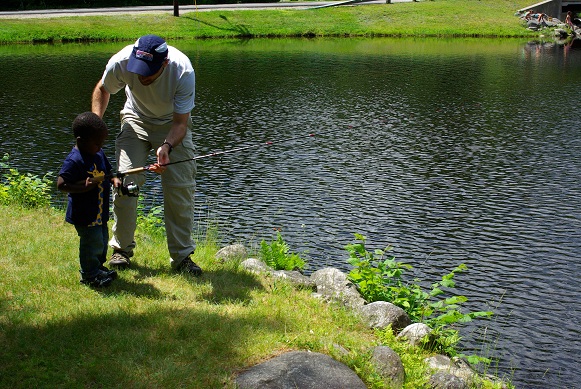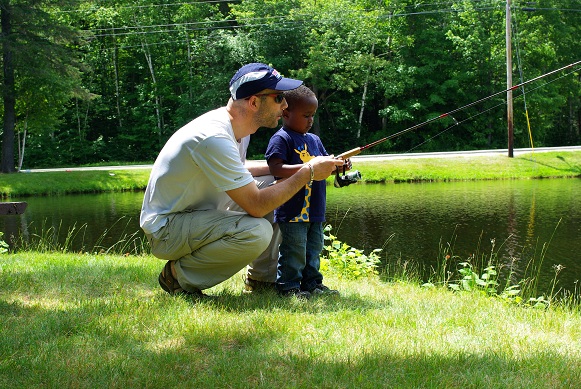 After fishing, we headed to the swimming area to freeze our butts in icy mountain lake water.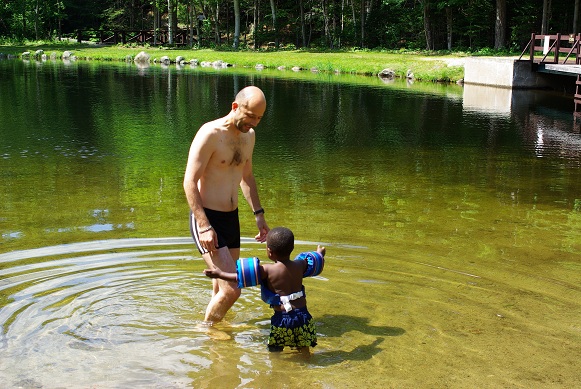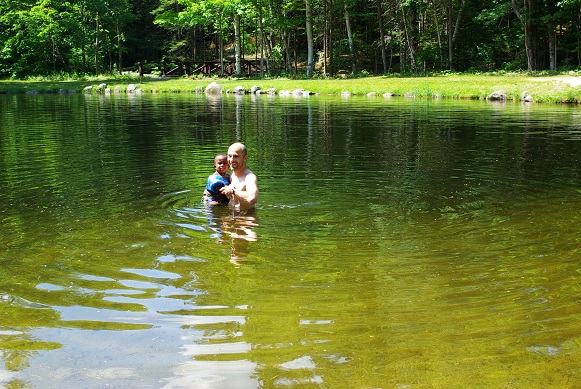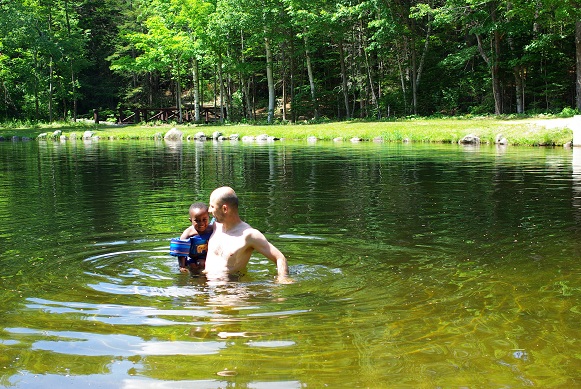 After a few moments of extreme refreshment in the water, we ended up mostly frolicking on the beach.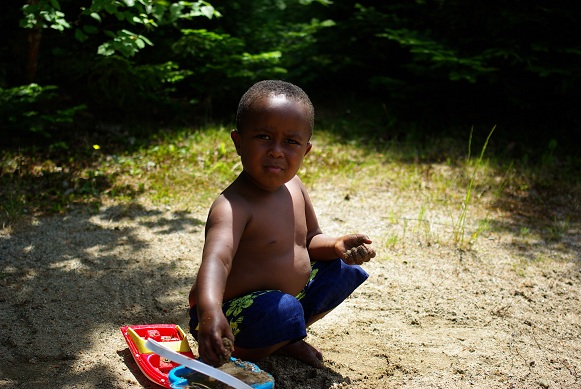 The carnival was in town. I took A. on Saturday afternoon while Mr. P went to a nearby stream for an hour of "real" fishing. I plunked down $15 for 20 tickets, thinking this would last us the duration of Mr. P's fishing outing. Alas, after 20 minutes of riding the motorcycles, cars, trains, and horses, I was plumb out of tickets. A. was beside himself when I refused to take him on any more rides and instead tried to interest him in a boring, stationary playground.
After we left the carnival, all of my conversations with A. went like so:
"Mommy."
"Yes, sweetie?"
"Machina, motorcycle, Thomas [his term for all trains]."
So insistent and cute were his pleas that we just had to stop at the carnival as we made our way back to Boston on Sunday afternoon. I took A. on the Tilt A Whirl and he was in ecstasy, laughing joyfully with each whirl. The big carny in charge of the ride was surprised when he let us off the ride and we wobbled to the exit: "I thought for sure he was gonna cry," he told me. Cry? On the Tilt A Whirl? Not my son!
On Sunday morning, the weather forecast was gloomy (70 percent chance of showers and thunderstorms), but it wasn't raining yet, so Mr. P decided to take his hike up Mt. Moriah while I returned to the lake with A. When we arrived, it was faintly raining, so we sat on a picnic table positioned underneath a brashly large birch tree that sheltered us from the drizzle. A. sat between my legs and ate his PB sandwich, nibbling methodically at the thick, nut-butter-slathered slabs of wheat bread while we watched the rain gently break the surface of the lake. It was silent except for the patter of water against the leaves and grass, and I felt quite bonded to A. right then, for I felt like my son shared my quiet appreciation for the outdoors. Then, while paused between bites, he slowly turned around to face me.
"Mommy," he said softly.
"Yes, sweetie," I said, my voice hushed with poignancy.
"Toy Story."