We went to the White Mountains in New Hampshire with four primary goals and one secondary goal. The four primary goals: To conquer Mounts North Twin, South Twin, Galehead, and West Bond. The secondary goal: To not incur any disfiguring mishaps such as a sprained ankle or broken bone. While safety is always an objective, it was more dire with only a month to go before the wedding and honeymoon. All goals have been attained, although my quadriceps are sore enough to have me walking with a slight grimace for the next couple of days.
On Friday at 11am, we set out on the North Twin Trail with our backpacks loaded for two days of hiking and an overnight stay at the AMC Galehead Hut. Ah, memories! This trail served as my White Mountains introduction six years ago when my ex-boyfriend and I twice hiked this trail to the North Twin summit, back when I was a hiking novice who wore sneakers, carried no emergency gear, and wheezed like a dying woman during the unrelenting elevation gain. When Mr. Pinault and I reached North Twin's summit in 3 hours 30 minutes, I realized that my ex-boyfriend and I never actually finished North Twin! Both times, we stopped at a outlook .1 mile from the wooded summit and assumed we had made it.
Here we are posing on the North Twin outlook, with Mount Washington and the other Presidentials looming in the distance.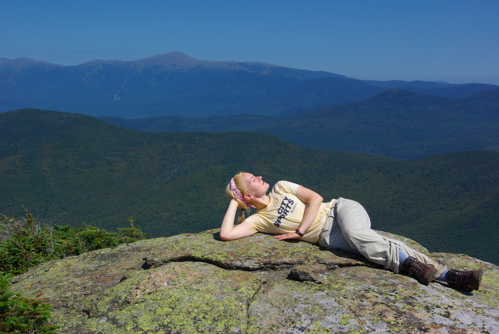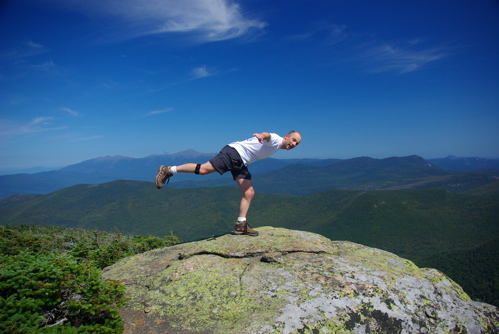 From North Twin, it was an easy mile to South Twin. The weather was calm but hazy. An AMC naturalist told me later that the White Mountains are at the convergence of 3 major storm systems and therefore often collect air pollution from the entire East Coast. We had both summits to ourselves, except for the flies that feasted on our sweaty flesh.
After bagging South Twin (here for pictures), we continued onto the Galehead Hut, the AMC's most remote full-service hut. In the summer it accommodates 38 guests with co-ed bunkrooms, compost toilets and cold running water, and a "hearty" dinner and breakfast served by the hutkeepers, college-aged men and women who are often seen scrambling up trails with loaded packs of food. While the hutkeepers have a certain youthful glamour about them, the truth is they're kinda like flight attendants in that they spend a bulk of their time preparing meals and cleaning bathrooms.
After checking into the hut and claiming our bunks, we set off to bag Mount Galehead, an easy 25-minutes from the hut. Galehead is a wooded summit, but we hung out on an outlook and pounded one of the massive cans of Heineken that we lugged up the mountain. Every day of hiking should ideally end with a beer.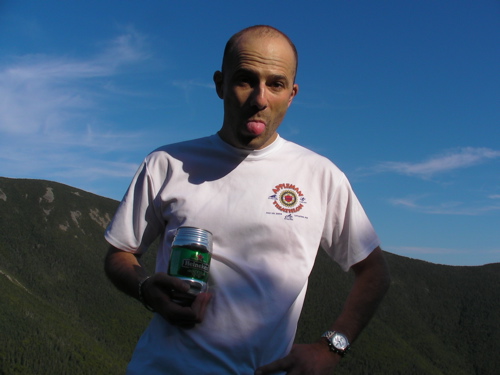 Dinner at the hut was edible and filling, with a nice soup and salad followed by bowtie pasta coated in a saltless film of cheese. The hutskeepers billed dessert as a "sweet surprise," so my raised hopes (chocolate cake!) crashed like my blood sugar when I saw the lemon-icing shortbread cookies. After dinner and a game of Scrabble, I snuggled in my bunk, in the hut-issued wool blankets that smelled vaguely of vomit, and tossed and turned while listening to a nearby man's buzzsaw snore. I knew I slept because I kept waking up. My left hand and wrist were experiencing an allergic reaction to several fly bites received earlier in the day. By morning, my fingers were plump like sausage and my knuckles were buried in an alarming expanse of swollen flash.
After a breakfast of oatmeal and pancakes, we set off at 7:30am on our ambitious 9-mile hike. It started off going .8 miles from the hut back to South Twin's summit. With the 1000-foot elevation gain, it took a sweaty hour, but it would be the hardest part of the day. Then we headed to West Bond mountain, one of the Bond mountains that are famed for their unerring beauty and remoteness (see Bondcliff mountain below). We wanted to do all of the Bonds, but we were 5 hours from the car and due back in Boston that night. So we headed back to the Twins and down the North Twin Trail, half-exhausted but content with our journey.