I was most disturbed to realize last week that I had not been to the beach all summer long, and also that the skin on my upper thighs resembled the complexion of button mushrooms.
Although I am not a beach person, preferring to find relief from the summer heat in the mountain's altitude and frigid waters, I do enjoy a good beach day. So when this weekend's weather forecast promised optimum beach weather, I plotted a path to one of the best beaches on Cape Cod via a route that would not involve sitting in a car for 6+ hours with tens of thousands of other would-be beach-goers.
The Boston to Provincetown ferry left Boston yesterday morning at 8:30. Hordes of good-looking gay men maneuvered large luggage onto the ship, upbeat that their vacation in the gay seaside mecca would be sunny and hot, with a chance of more Hot. Daytrippers like myself and Mr. Pinault wheeled our bikes onto the bow of the ship and meekly acquiesced our presence to the high-spirited men who ordered 9am Bloody Marys, hugged each other in greeting, and just generally revelled at being on a crowded ferry of 85% stylish, fit, clean-cut men. I managed to resist the urge to quip about the P-town "fairy."
When the ferry arrived at P-town at 10:30 am, Mr. Pinault and I hopped on our bikes and lazily coasted through P-town's rainbow-decked downtown. It was a beautiful day.
Unfortunately, Mr. Pinault got a flat tire that necessitated a detour to the bike shop. Mr. Pinault ran with his bike to the shop, meaning that in addition to cycling and swimming, the triathlete would get in his full training regime for the day. He got even more running practice when the tire went flat a second time, 1 mile away from the bike shop. Luckily the tire remained fixed after the second trip, and we hit the lovely, rollicking bicycle trails in the P-town dunes.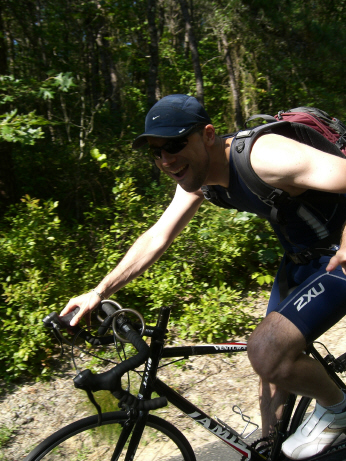 We got good and sweaty and then gratefully staked out a space on Race Point beach. We zonked out on the comely white-sand beach, only moving to secretively drink our Corona Lights with lime, to zealously apply 35 SPF sunblock, and to enthusiastically take periodic dips in the 65 degree water. Mr. Pinault claimed that the whiteness of my thighs were burning his corneas.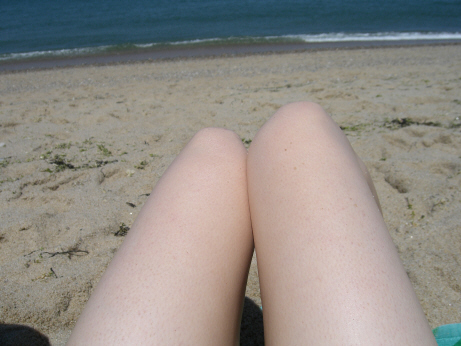 I noticed quite a few men checking out my oblivious husband. I can't blame them: He's stylish, slim, graceful, European, and 100% straight. When it came time for us to shower in the single-sex bathhouses, I fret about the luridness that Mr. Pinault would (and did) encounter.
By then, it was 5:30pm, and we only had 2 hours until the ferry took us back to Boston. Where did the day go? We biked back to P-town and found a restaurant that served oysters on the half-shell and a wonderfully crisp Sauvignon Blanc. We sat at the bar and bantered with the bartender as he mixed martinis for the dinner crowd. Then we boarded the ferry just as the sun set over P-town, as if to say goodbye.