Upon waking this first day of January 2018 at 6am (I did not manage to stay awake past 10pm, let alone make it to midnight), one of the first things I did was cut myself a slice of chocolate chip fudge brownie, leftover from last night's dessert. The act of digging into a gooey ball of flour, oil, and sugar to kick off the New Year did seem a counter-intuitive to the pious and vigilant urges that most of us have on January 1, but I knew that my body needed an extra boast to brave the literally zero degree temperatures ("feels like -15") for my first run of the year.
During this particularly extreme cold snap, I have embraced the treadmill at my gym. The types of runs I need (steady aerobic and tempo runs) to train for the Boston Marathon are difficult in the brutal cold with messy sidewalks. But with my speed work done for the week, and with the holiday allowing me to leave after sunrise, it was a no-brainer to start 2018 with a run out in the snowy woods, where the trails were packed with snow that had not had the opportunity to melt and re-freeze into ice.
I do have hundreds of dollars worth of cold weather running gear, so I sort of have no excuse to not go outside when it's 0 degrees and gusty. I donned a fleece buff that sort of looks like a headscarf, a neck warmer that covers my mouth, three upper body layers including my hardest-core windbreaker, my Arcteryx leggings, and a double-layer of mitten. And the North Face winterized sneakers that I had bought last Spring for 75% off were finally getting their moment to shine! They keep my feet warm, but the thick tread makes running on pavement uncomfortable, so I took the shortest route possible to the trailhead.
In the woods, the trees shielded me from the -15 degree winds, and my numb butt gradually thawed as I plowed up the half-mile hill on the hard-packed snow. There was probably about 2-4 inches from the snow on Christmas Day, and one week later it was still pure powder, and the snow silence still blanketed the woods.
In the cloudless blue sky, the sun blinded me more than it warmed me.
I trudged around the trails for about an hour and didn't see a single other human — or any other living thing, for that matter.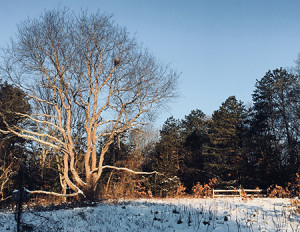 Total: 8.5 miles, with about 900 feet of elevation gain — just barely justifying that New Year's brownie breakfast.