Lazy Sundays are nice. After enduring a hectic Saturday that caps off a non-stop full work week, the prospect of a day with few pressing commitments got me out of bed at 5am, so eager I was to begin a casually productive day.
I drank two cups of coffee and consumed more than a few spoonfuls of honey-twinged almond butter while watching last night's lackluster SNL sketches on YouTube, and otherwise preparing myself to head into the 40-degree grayness of this early December morning. Originally, I planned to head to the town conservation lands to hit the trails, but lately I've been more inclined to head to the Charles River. I jogged east, up the hill leading out of my neighborhood, cresting at the construction-heavy Cushing Square, and then continued down the major thoroughfare towards Cambridge. As I floated down the hill past the ritzy Oakley Golf Club, I perceived this: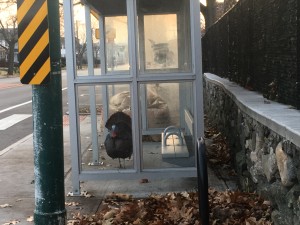 It was a magnificent turkey tom, all by his lonesome, standing motionlessly in a bus stop shelter. He faced the oncoming traffic, as if patiently waiting to spot the approaching bus while ensconced from the cool gray wind.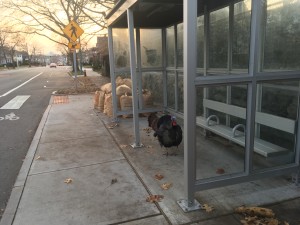 Aside from some cars speeding by, the turkey and I were alone on the street. He was so regal. It is not uncommon for me to see flocks of lady turkeys trotting around the streets in my town, but to spot a tom amid so much concrete was a first for me.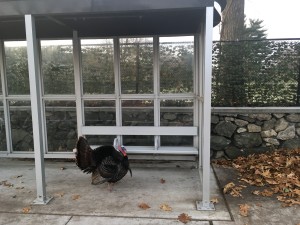 The tom seemed non-phased by my presence, behaving, in fact, how I would expect most people would behave, if a woman jogging past their bus stop suddenly stopped and stared at them: He politely ignored me.