Temperatures warmed significantly in the past week; we went from having about a foot and a half of snow on the ground to being left only with those big dirty piles of snow at the edges of parking lots. We even had a few days of 70-degree weather, which is unheard of February in recent memory.
Before the snow vanished, I did get out to Great Brook Farm for some XC skating (which can only be done on groomed trails, hence I haven't done skating in forever because it seems much easier to backcountry ski for free in the local conservation area). I've never been particularly good at XC skating and it took me a ten minutes to get my balance to the point where I was comfortable, but at least I was better than this guy, the Venezuelan skier who is now famous for his disastrous race in Finland (the most cringe-worthy part is around 40 seconds, when he manages to break his pole from a standing fall).
I went in the morning (it was Veteran's Day) and already the temps warmed the snow to a mush. The trails were also getting crowded. Although I'm one of the slowest XC skaters ever, I still got to fly past the crowds of classic skaters slowly wobbling their way in the piéton tracks.
Meanwhile, Mr. P (who didn't get the holiday off from work) was working from home, debilitated by a man cold. The cat and him were enjoying a symbiotic association involving body warmth.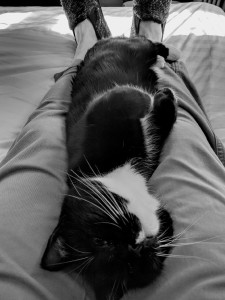 Little Boy was also keeping quite warm in Florida — at Disney World, in fact, where he spent the entire week with grandparents (schools have off the whole week for February vacation). From what I understand, it was trip that oscillated between a huge amount of fun and a massive amount of lines. He returned yesterday and the weather was still warm so we took a walk to Alewife Brook and fed a donut to fish, geese, and ducks, all of who competed for the crumbs. The goose proved to be the most dominant donut-grabber.
Aside from my XC skating jaunt, I spent the rest of the week working and being a wee bit resentful of those at my work who took the week off. My workload never seems to abate, and my next real vacation involving entire weeks off and being off the grid won't come until August. That's six months away!