Many months ago, we booked a site at the Lafayette Place Campground in the White Mountains of NH for the Fourth of July long weekend. Mr. P and I have stayed there a couple of times before, but Little Boy had never had the pleasure of camping below some of the most impressive mountain ridges in the northeast.
Last weekend, I ran the Catamount 50K in Vermont, so my plan for this weekend was for more "time on my feet" and vertical as opposed to raw miles. Thus, Mr. P and Little Boy dropped me off at the Lincoln Woods trailhead so I could hit Mts. Flume, Liberty and Lincoln before meeting them at the top of Little Haystack.
I was a bit nervous about venturing into the Whites by myself. Though I've hiked them extensively, I've always had the pleasure, safety, and assuredness of Mr. P's company. But I moved steadily and easily through the mountainous terrain, and only slightly freaked out when encountering the numerous ladders up the steep slopes of Mt. Flume (which I forgot all about). Fortunately, I was going up and not down, so my vertigo did not kick in, too much.
It was a windy day. I did not pause for very long at the summits.
It took me about three hours to reach Little Haystack, which Mr. P and Little Boy were ascending from the trail at the campground. Given the time it would take them to drive to the campground and ascend, we figured we would converge there, but I was still surprised to get to Little Haystack and see Mr. P and Little Boy preparing to descend. The wind was wicked strong and cold, and they couldn't wait for me. But when we saw each other, they went back up to the summit and we cowered behind some rocks from the wind so that I could mow down the most disgusting Cliff Bar ever.
The 40+ mile per hour wind was too strong and dangerous for Little Boy to continue along the ridge to Lafayette; he had to go down. I had originally planned to go to Lafayette, and I was equipped to do so, but decided to descend with Little Boy and Mr. P for the pleasure of their company.
I *think* I'm speaking subjectively when I declare: Little Boy is an impressive hiker. The trail down from Little Haystack (the Falling Waters trail) is notoriously technical, with the never-ending blocks of rock and slick slabs. We passed people going down — so adept and agile this kid is.
At the campground, we had some well-deserved fun, relaxation, and food. I love this picture not only for Little Boy's smile, but because this is the picture that could get Mr. P's  French citizenship revoked.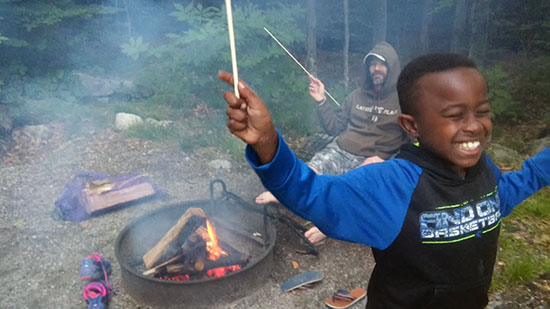 The next day, Mr. P was racing the Loon Mountain race, which is the USA Mountain Running Championships. So there were some real hardcore mountain runners there… and then, a surplus of serious, good-looking amateurs 😉
Mr. P's got a bit of goat blood in him, though, so he certainly did respectably in the 6.5 mile, 2500 foot climb. Little Boy and I took the gondola to greet Mr. P right before the final, agonizing climb to the finish.
Later that day, we took a small hike to Lonesome Lake, which is just a small 1.2 mile, 1000+foot climb from our campground. And it was busier than the Mass. Turnpike at rush hour! But we did find a quiet spot.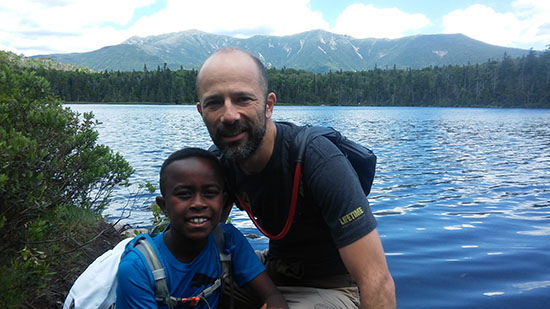 Mountain adventures are the best. Little Boy is proving to be an able and (mostly) enthusiastic hiker. I hope to share many more adventures as he get bigger and exponentially faster than me.
…
The woods are lovely, dark and deep,   
But I have promises to keep,   
And miles to go before I sleep,   
And miles to go before I sleep.
—Robert Frost, "Stopping by Woods on a Snowy Evening"