Four years ago, I ran the marathon at Bear Mountain (post here —Little Boy was three years old and as cute as a bug!) I was getting back into running after a self-imposed hiatus. I carried about 15 extra pounds and had never run a trail race longer than 7 miles. I had tremendous fear of the Bear Mountain marathon; it was unknown territory in more ways than one. I finished in a rather feeble time of 6 hours, 27 minutes (I recall jogging/walking/stumbling a majority of the last ten miles). I never considered going back to Bear Mountain for a longer distance because it's not my type of course: it's technical, steeply rolling, grizzly. I prefer runnable ultras with sustained climbs and descents.
Mr. P., on the other hand, has raced on some of the most difficult terrain on the East Coast, so Bear Mountain is right up his alley. He signed up for the 50 miler. I felt zero envy.
We left for New York mid-Friday afternoon when Little Boy's school let out. (He was sore at us for making him miss his after-care program fun.) We arrived at the hotel around 7pm, had a surprising dinner at Pizzeria Uno (nice cobb salad — who knew?), then went to bed to arise the next morning before 4am. I drove Mr P. to the start, then Little Boy and I went back to the hotel to (unsuccessfully) try to get more sleep.
I studied the race course map and decided we could meet Mr. P at around 20 miles, which was a nice lake aid station easily accessible by car. We waited by the lake for over an hour; it was clear Mr. P was off his projected pace, and when he arrived he confirmed that the course was more technical and slower than he anticipated (I did warn him!)
After wishing Mr. P well, we had about 5 hours to kill before meeting him at the 41-mile aid station. We went back to the hotel, rested, went to a WalMart, and showed up at the aid station a good two hours early to play frisbee and football in the adjacent grass field.
Mr. P came through. He was moving okay and was within reach of his "B" goal, which was to finish in under 12 hours. He had nine miles to go and was eager to finish.
Little Boy and I took the shuttle to the starting line. There was an informal 1 km kid's race that Little Boy started in the back and was frankly not motivated to do. This kids' race was memorable because, right after the start, there was a toddler stampede that resulted in two little kids getting (harmlessly) trampled by other toddlers and everyone was like "Awww!" and laughing.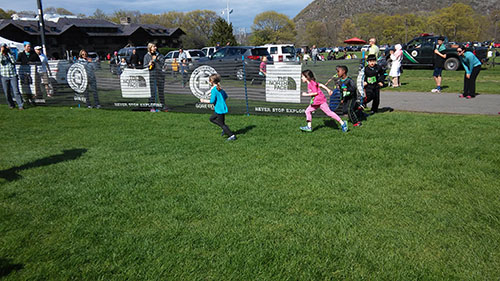 Coming into the finish
The minutes ticked by. I was anxious for Mr. P to meet his goal of under 12 hours, and at 11 hours 50 minutes, I spied him approaching the finish chute. Hurrah!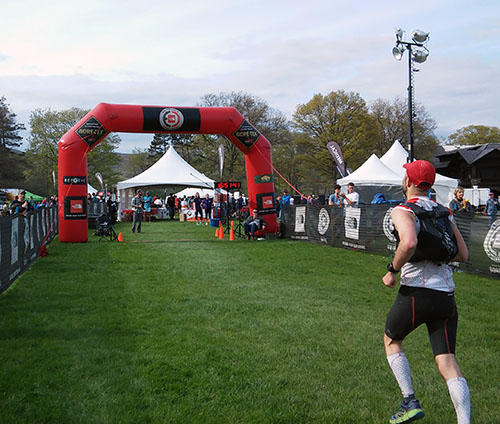 Mr. P running with respectable form to the finish
After he finished, the rest of my day was spent happily waiting on him, hand and foot. However, I was signed up for the half marathon the following morning, which I was a little apprehensive about because of the rainy weather, and because it's a 700-person trail race.
Trail races with 700 people are not fun. They are crowded, impersonal, tense. It was a thirteen mile conga line, up and down the hills. Half the runners were in a total anaerobic state the whole race. It was hard to pass people safely because many people lacked trail etiquette and/or were wearing headphones and seemed oblivious to others. After the final big climb at mile 11, the pack finally spread enough that I could practically fly to the finish. I had hoped to finish under 2:20, but actual time was 2:35. Do not underestimate Bear Mountain!