July 8: Wheeler Lakes Hike
The 6-mile hike to Wheeler Lakes was a steady climb through the woods of pine and aspen. The sun was hot and Little Boy was decidedly not motivated to take this hike. I kept talking up how we were going to see a meadow! and lakes! And eat sandwiches! But these enticements don't work on anyone under 25.
We scoured the shoreline of the lakes a bit, looking for a spot to sit down, but there was no clear shore — only buggy, muddy grass that dropped off into buggy, mushy water. So we walked up a bit to sit on a nice cropping of rock to eat lunch. Mr. P planned to go on short run further down the trail, so Little Boy and I sat there, snacking and playing with ants.
Overall a very pretty hike!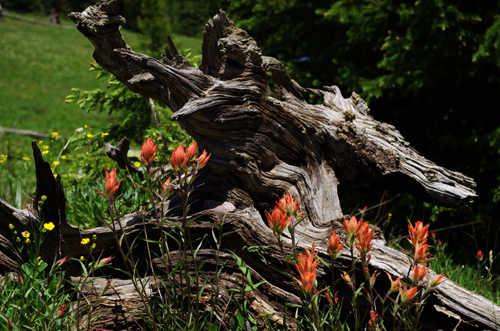 July 10: Rafting!
On Thursday we went whitewater rafting. We drove about an hour from Breckinridge to the town of Buena Vista, which is a rafting mecca. We had some time to kill beforehand, so we walked the town's lovely river trails.
We saw other rafters going down the river. I was glad Little Boy had this preview because up until that day I don't think he knew the concept of rafting.
We choose our rafting company randomly, though we were forced into the mildest introductory rafting experience because of age restrictions on the more thrilling rides. Although we did buy a waterproof disposable camera, we're still waiting on the development of the film — maybe I'll post those pictures later, because I'm sure they're awesome! Little Boy in a wetsuit and lifejacket! Mommy getting repeatedly doused in hypothermic waves (I seemed to be sitting in the worse spot of the raft)! Daddy pulling something in his hamstring! Little Boy had a blast. At the end, the raft's captain invited us to swim to the short so all three of us jumped out of the raft and floated down to the shore, freezing and smiling.
Later, we stopped so Mr. P could pose with Mt. Quandary, a 14-thousand footer that he conquered by himself the previous morning while Little Boy and I frolicked at the aquatic center.